The Problem
Complexity is increasing everywhere, with increased software, connectivity, public policy issues, and development cycle acceleration. The trend is to add features and functionality, often implemented in software. Software size and complexity are growing exponentially, with the marriage of hardware and software enabling systems-of-systems – with examples being portable phones or airliner cockpits.
New integration problems result from combining rapid technological advancement and obsolescence, increasingly complex hardware and software evolution, and a migration to increasingly software based systems. Yet an increase in software leads to increased interfaces and an increase in integration problems. Software interfaces are not as "transparent" as mechanical interfaces and go beyond inputs and outputs. Additionally complex system interfaces are crossing multiple suppliers, both hardware and software. Overall the trend is that it is not going to get better, it is only going to get worse as software lines of code increase, and integration, verification and validation efforts also increase.
Success is getting harder in the "New Normal".
50% of product launches fail to live up to company expectations
33% of new products fail to provide a satisfactory return
70% of resources spent on new launches are allocated to products that are not successful in the market
80% of projects cost 20% more person-hours to launch than initially forecast
Problems that arise from unmanaged complexity are no longer affordable. For example there were 18 million vehicle recalls in the US in 2012, which is more recalls than vehicles sold, and each recall costs $100/vehicle/recall leading to $1.8 billion in direct costs!
The Solution
The Systems Engineering Approach is the most effective way to manage complexity and change. Reducing the risk associated with new systems or modifications to complex systems is one of the primary goals of the systems engineer. Solving problems early in the development cycle saves enormous costs and time in the later phases of development. Costs and schedule overruns lessen with increasing systems engineering effort.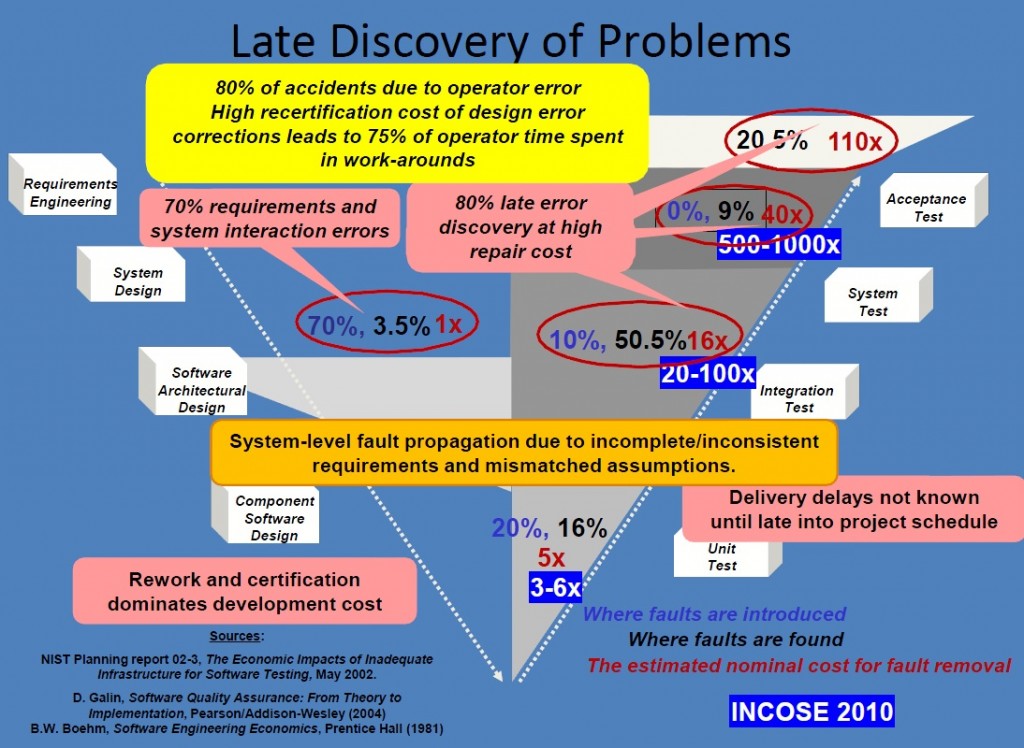 Things that go wrong include:
Weak or non-existent basis to requirements
Inadequate costing and time-scale estimation
Weak control of suppliers and subcontractors
Integration problems
Inadequate test and acceptance strategy
The project who's turn to be "it":
Scope problems
No overall orchestrated cracking of the whip
No idea of costs at the outset
No system-wide vision
An 'odds and sods' approach
Bitten by unproven technology
Hidden benefits:
Risks that didn't materialize
Rework that didn't need to be done
Customer complaints that didn't occur
Product deficiencies that are circumvented
Engineering roles are changing – what an engineer does and is expected of an engineer now includes broader market, financial and social issues.
It is difficult to train good systems engineers and foster "systems thinking" and get organizations to apply the "systems approach". The systems approach has both an art and science component to it, and like similar disciplines like medicine, it can be taught by expert practitioners, typically from industries that successfully develop complex systems.
Whether you are developing a product or a process, a well implemented systems approach produces superior performance.